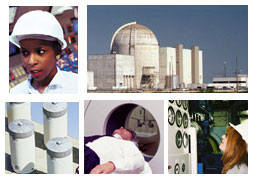 REIRView Validation Software 4.1
The NRC has developed a software tool to allow NRC Licensees to review their electronic data files prior to submitting the data to the NRC. REIRView allows the licensee to:
Validate the data and format of the submittal in accordance with Reg. Guide 8.7, Appendix A
Review all errors and warnings identified in the submittal
View a summary of the data to verify dose distribution and totals
Notice: Reg Guide 8.7 version 3 was issued November 2016. For the files submitted for the 2016 monitoring year (due by 4/30/17), REIRS will accept RG 8.7 version 2 or RG 8.7 version 3 file formats. RG 8.7 version 3 format will be necessary for all 2017 monitoring year submittals (due by 4/30/18). RG 8.7 version 3 includes a new column for EDEX, as an additional required entry, and changes to the header record to identify the file version.
Version 4.1
REIRView Version 4.1 is now available and can be used to validate annual submittals for 2016 monitoring records. If you have REIRView Version 4.0 (Beta) currently installed, please uninstall before installing the new version.
REIRView 4.1 is capable of validating the data format and content as specified in Regulatory Guide 8.7, version 2, as well as RG 8.7 version 3 which adds EDEX. In addition to the software, a copy of the Appendix A of RG 8.7 version 3 is available to show the changes from the previous format.
If you have any questions, please contact REIRS support at 865-574-2117 or REIRS_support@orau.org.
What's New in REIRView
Version 4.1
Released January 2017
Added "About" button to provide additional information describing the software.
Fixed inconsistent check in CDE/TODE validations.
New text description to clarify warnings and errors was added.
Version 4.0 (Beta)
Released March 2016
REIRView 4.0 is a 32-bit application updating the previously released REIRView 3.2.
Inclusion of EDEX field.
Updated to include EDEX field in TEDE validations.
Ability to turn validations on/off has been removed.
Ability to redact Privacy Act Information (e.g., SSN) from error files.
Page Last Reviewed/Updated Thursday, September 14, 2017